Exciting new partnership will advance comprehensive sexuality education in sub-Saharan Africa
Ibis Reproductive Health South Africa is proud to announce its partnership with Advocates For Youth (AFY) as the new Sub-Saharan Africa regional lead for the AMAZE Africa initiative, with the intention of amplifying ongoing efforts in the region to make comprehensive sexuality education resources more accessible. Ibis Reproductive Health invites you to the official media event that will take place on the 29th of March at the Sci-Bono Discovery Centre, at 11:00 until 13:00. The event will also be streamed live on Zoom and filtered through to the AMAZE Africa Facebook page.
AMAZE.org is a comprehensive and engaging sexuality education resource for young people, their parents, and educators. The partnership with AFY to disseminate AMAZE.org videos and amplify ongoing efforts by partner organisations in the region, is part of Ibis' ongoing commitment to promoting healthy sexual behaviour, reducing the incidence of sexually transmitted infections (STIs), and fostering gender equality in Africa.
In sub-Saharan Africa, AMAZE.org seeks to meet the urgent needs of young people, their parents, and educators by providing scientifically accurate and age-appropriate, comprehensive sexuality education resources.
Through its engaging and accessible format, the AMAZE.org initiative helps to break down the taboos surrounding sexuality, counters misinformation about pregnancy and STIs, including HIV, provides information about how to recognise unhealthy relationships and sexual violence, and empowers young people with the knowledge and skills they need to make informed and responsible decisions about their sexual and reproductive health.
In addition to its educational resources, AMAZE.org is also a powerful tool for promoting healthy relationships, reducing stigma and shame around sexuality, HIV/Aids and related illnesses, and empowering young people to make the right choices for themselves. By providing accurate and accessible information about sexuality and relationships, AMAZE.org can help to ensure that young people have the tools and resources they need to make informed decisions about their sexual health, and build healthy and respectful relationships with their bodies.
"Our partnership with AFY to become the sub-Saharan Africa regional lead for AMAZE marks a significant milestone in our ongoing efforts to promote comprehensive sexuality education in the sub-Saharan Africa region," said Tshegofatso Bessenaar, Vice President of Africa Programs at Ibis Reproductive Health. "We are thrilled to be able to amplify this powerful tool to young people and their families, and we are confident that it will have a positive impact on the health and wellbeing of young people in Africa."
We invite all journalists to join us for the event, where you will have the opportunity to hear from experts in the field of sexuality education and learn more about the impact that AMAZE.org is having in Africa. The media event will take the form of a panel discussion where we will discuss the importance of Comprehensive Sexuality Education in mainstream education, and how the AMAZE initiative can enhance this through its animated videos.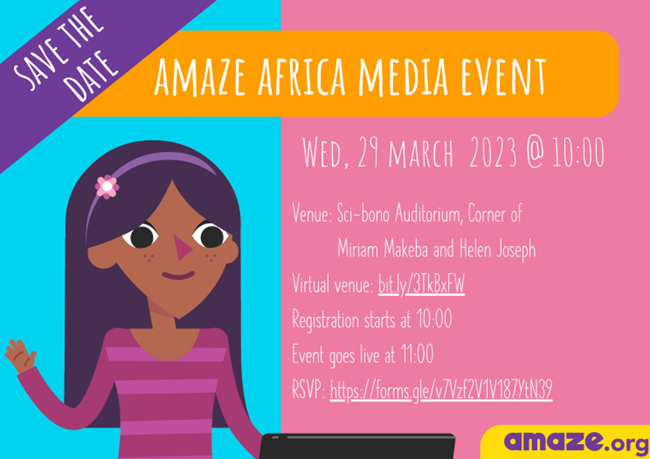 The event will be facilitated by Claire Mawisa, who is a board member of Ibis Reproductive Health and a South African television and radio presenter.
Our esteemed panellists include:
Darcy Weaver - USA
Advocates for Youth: Associate Director for AMAZE International
Ijeoma Egwuatu - Nigeria
Human Right Activist||SRHR Advocate||Data, Innovation and Communications Director at GIWYN
Helena Nangombe - Namibia
Founder of Young Women Empowerment Network (YWEN) and a community expert who has worked with adolescent girls and young women on HIV and SRHR related matters in Namibia.
Patricia Najjita - Uganda
Communications Strategist at SRHR Alliance Uganda
Nthabiseng Mogashoa - South Africa
Mmoho campaign Steer Committee member, SRH advocate and radio host
Event details
Physical Venue: Sci-bono Discovery Centre Auditorium, Corner of Miriam Makeba and Helen Joseph Street, Newtown, Johannesburg
Virtual Zoom link: bit.ly/3TkBxFW (if attending virtually)
Date: 29 March 2023
Time: Arrival 10:00, event starts at 11:00 until 13:00
Media personnel registration: bit.ly/40xSCyE (please fill in even if attending virtually)
For media enquiries please contact:
Duduetsang Mmeti
Senior Communications Manager
Ibis Reproductive Health