Ibis co-convenes research dissemination meeting on adolescent sexual and reproductive health in Ghana
This October, Marie Stopes Ghana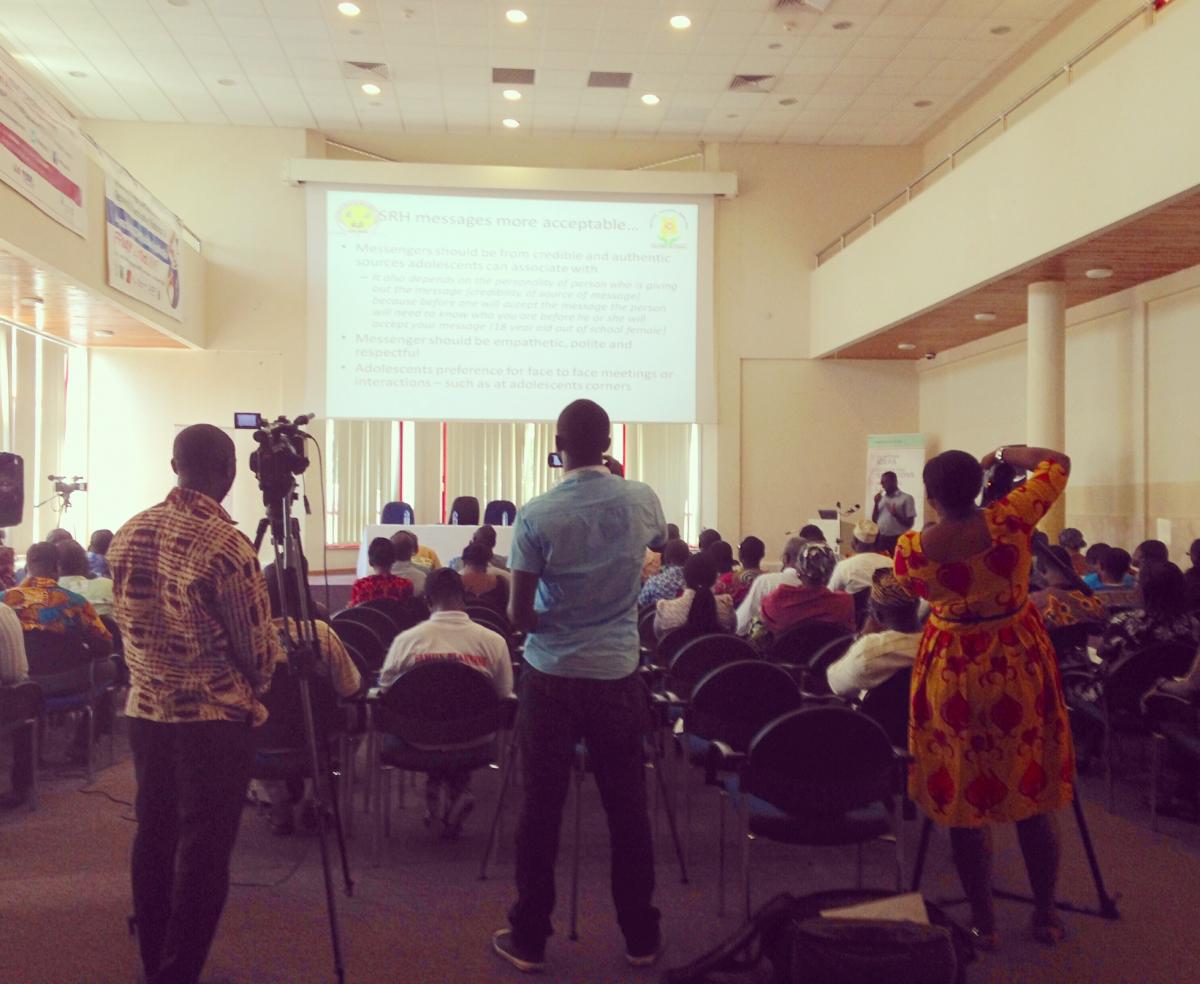 , Ibis, the University of Ghana School of Public Health, Ghana Health Service, Population Council, National Population Council, and Futures Group/Palladium co-convened a research dissemination meeting in Accra on adolescent sexual and reproductive health in Ghana. Approximately 100 stakeholders from around the country attended the event, representing governmental and non-governmental health agencies, youth organizations, academics, and the media. The meeting was chaired by Professor Ankomah from the University of Ghana, and featured presentations on recent research on adolescent health in Ghana, as well as the launch of a new mobile application from Ghana Health Services.
Ibis, Ma​rie Stopes Ghana, and the University of Ghana School of Public Health presented findings from their research on contraceptive knowledge and use and experiences with unintended pregnancy among young men and women in Accra. In this study, awareness of modern contraceptive methods was generally high—greater than 70% for most methods—but was low for some, including the intrauterine device, sterilization, and diaphragm. The vast majority (91%) reported belief that at least one modern method was unsafe for women. Additionally, we found high rates of unintended pregnancy among young women living in Accra, and the majority of respondents overall felt at risk for future unintended pregnancy. Overall, we found that efforts are needed to increase modern contraceptive use, including improving knowledge of long-acting methods and the safety of modern methods in general. Additionally, efforts to increase dialogue around contraception may improve uptake among young people living in Accra.
Marie Stopes Ghana next presented on its 'No Yawa' campaign, which gives voice and choice to Ghanaian youth through the provision of comprehensive sexuality education and services. Next, the Population Council presented findings from qualitative research with adults in Ghanaian urban slums on their views of adolescent health. Finally, the National Population Council and Futures Group/Palladium presented on strengthening multisectoral collaboration to implement an adolescent sexual and reproductive health programme in the Brong Ahafo region of Ghana. Dr. Patrick Aboagye, Director of the Family Health Division of Ghana Health Services led the discussion. Attendees highlighted the importance of research being disseminated to the public and back to the communities in which it is conducted, and that this was an important opportunity to hear the findings from several new studies on adolescent health in Accra and other regions of Ghana. You can keep up to date with Ibis's work on this topic on the project page.