Free the Pill: Moving oral contraceptives (OCs) over the counter (OTC) in the US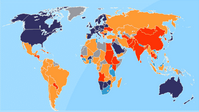 Oral contraceptives are one of the safest and best-studied medications on the market today, and they are also one of the most popular and effective birth control methods available worldwide. Yet in a number of countries, including the United States, women need a prescription in order to obtain them—and this can be a barrier for some women, particularly those without easy access to a doctor.
Ibis convenes the Oral Contraceptives (OCs) Over the Counter (OTC) Working Group, which aims to improve access to contraception and reduce disparities in reproductive health outcomes by making a low-cost OC product available OTC in the United States. Founded in 2004, the working group is a coalition of researchers, advocates, and clinicians who share a commitment to providing all women of reproductive age easier access to safe, effective, acceptable, and affordable contraceptives. The working group supports and conducts research; hosts regular meetings with its members; and works with advocate partners to push for both public and private insurance coverage of OTC contraception without a prescription and OTC access without an age restriction. Through its dissemination efforts, the working group has garnered considerable support for an OTC switch for OCs from women's health and reproductive justice advocates and leading medical societies, and has also sparked interest among pharmaceutical companies.
We are partnering with HRA Pharma to conduct the research needed and submit an application to the United States Food and Drug Administration to make a birth control pill available over the counter.
Read the Working Group's statement of purpose and learn more at www.ocsotc.org.
Ibis also manages Free the Pill, a website that provides resources and updates on moving OCs OTC. For the latest information, you can follow Free the Pill on Facebook or Twitter.
Peer-reviewed Articles (37)
Policy Briefs (5)
Commentaries (7)
Other Resources (1)